We look forward to feeding your student a nutritionally complete breakfast and lunch that's low in sodium and topped off with as much locally grown produce (when available) that we can find!
Taher, Inc. is a contract food service management company providing K-12 school lunch management, Campus Dining, Senior Dining, Business Dining, Outdoor Education and Vending Services, and office coffee services to clients in our growing nationwide footprint.
Since its founding in 1981 by President and, the company has focused on serving fresh foods expertly prepared by a team of chefs, monitored by a group of seasoned veterans, and delivered at a reasonable price.
Taher serves over 34 million meals per year, and employs and/or supervises over 2,600 employees.
Supporting each of Taher's field sites is a regional staff of dietitians, merchandising and creative design professionals, purchasing personnel, and specialists in information technology, facility design, and operations.
Taher's Corporate Philosophy
Food sustains us all. From a fourth grader opening a textbook to a vice president closing an important deal, we all need great food to carry us through the day. A grilled chicken and pesto panini at lunchtime. A mid-morning cappuccino. Something to really hit the spot, give us energy and keep us on track with our healthy lifestyle choices.
That's where Taher comes in.
While our clients, who range from kindergartners to retirees, pursue an incredible variety of personal and professional goals, we focus exclusively on food. We know it, we love it, and we're dedicated to making sure all of our customers have one important thing in common: eating outstanding meals, every single day.
We cook from scratch with fresh, quality ingredients. We partner with farmers and growers who are committed to sustainable practices and humane standards. Our licensed dietitians stay current on advancements in nutritional knowledge, and continuously weave these into our menus – like the addition of more whole grains, and the complete phase-out of all trans fats.
We also reach around the world for culinary inspiration to keep our menus growing, changing, and fresh. In 2002, we created our traveling Chef Council – an industry first – to maintain a culture of global food awareness and appreciation in our organization. At the same time, we have strong local roots; we're from the Midwest and we're truly invested in what happens here.
Finally, since we've been around since 1981, we know how to run a smooth organization. We balance the benefits of our sizeable presence with a nimble, adaptable approach for every new client with whom we partner.
The years have not diminished our passion for food. It is what continues to fuel our work and our relationships with our clients, and we look forward to all that lies ahead.
Please visit the Taher website to learn more about our commitment, in every stage of our operations, to promote our customers' healthy diet choices.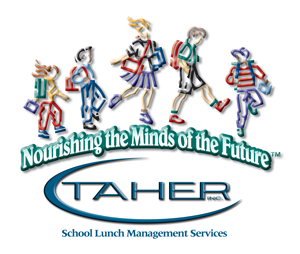 What's Happening in
Food Service

The local Taher kitchen can provide a broad range of catering services.
For more information about catering for your event, call 928-854-5411.